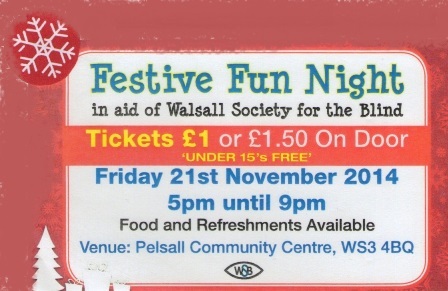 Many thanks go to our good friend and supporter of the Society Amanda, for organising the fabulous Festive Fundraising event, held at Pelsall Community Centre on Friday 21st November 14. The event was held to raise funds in aid of Walsall Society for the Blind.
With entertainment, food and over 40 stalls selling a wide range of items,
it was a wonderful evening.
We would like to thank everyone who came to and were involved in the event, we really do appreciate your time, hard work and your support.
With your help Amanda has raised a wonderful amount for Walsall Society for the Blind, and we are very grateful.