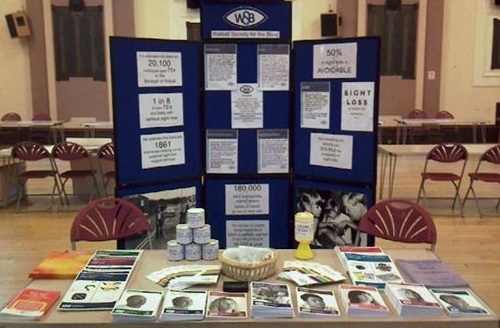 At WSB we feel that by providing awareness training to as many people as we can is vital.
It is important for people to know about sight loss, especially children, as 'blindness' is one of the hardest disabilities for sighted people to deal with.
We find that by taking the time to explain to people the reasons behind why someone may lose their sight, and describing how they live their lives can completely change people's idea of sight loss.
Not everyone with a visual impairment has a guide dog, white cane and big dark glasses and it is important to get this message across as people's perception of blindness is often misleading.
Only 4% of 'blind' people cannot see anything, most have some form of vision and lead a very productive 'normal' lifestyle.
Awareness training is given at schools, nursing homes, hospitals and we constantly attend awareness and open days across the Borough giving advice on all sorts of issues including:
Benefits
Guiding
Products, aids and adaptations
Services
Grants
For more information, to book, or to find out where we will be attending next, please call us on 01922 627 683.